Let's say you're traveling to Montreal for business or pleasure. In that case, you might want to simplify your life by taking advantage of our concierge service, which is the perfect complement to our exotic car rental service. During your stay in a hotel or luxury condo, you can concentrate on your work or your pleasure by entrusting your concierge with the tasks that are bothering you or taking up too much of your time.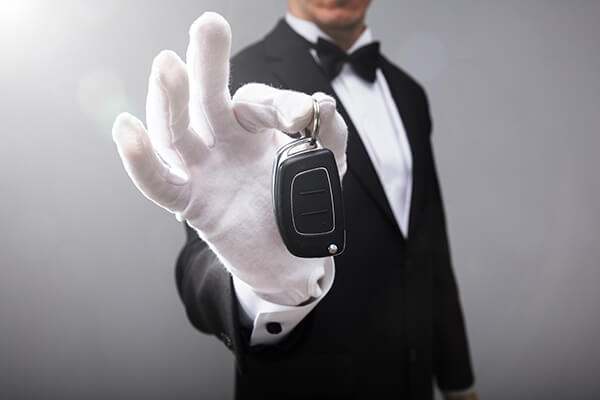 Vanguard simplifies your life by taking care of everything that can cause you stress. Discover the services offered by our car concierge to make your stay in Montreal a pleasant one:
These concierge services are FREE with your luxury car rental.
Hotel reservations
At Vanguard, we can help you reserve a room in a Montreal hotel. Our car concierge agents know the best hotels in town. Whether you're booking a hotel for business or pleasure, we'll find you a room to suit your tastes. If you're on a tight budget, our agents will do their utmost to find affordable accommodation.
Restaurant reservations
Our Montreal car concierge service can manage your table reservations at Montreal restaurants. Day or night, we'll find the perfect restaurant for you and your guests. Let us know your gastronomic preferences, and our concierge will reserve your table in one of the restaurants offering these dishes. Would you like to organize a business lunch or dinner during your stay in Montreal? We'll take care of all the organizational details to save you time.
Buy show tickets
You're on vacation in Montreal and want to see a concert alone or with your family? Vanguard's car concierge service will take care of getting you your tickets. Thanks to this service, you can go straight to the event of your choice without worrying about the usual formalities. We can also find you last-minute tickets for an impromptu evening out.
Gift delivery
Our car concierge service in Montreal can help you deliver gifts or parcels to your clients or acquaintances in Montreal.
We make it easy for you to have flowers and other gifts delivered to the people of your choice. Our delivery service is reliable and highly efficient, whatever the gift or object you wish to send to your loved one's office or home.
Contact us today to find out more about Vanguard's premium experience.
For even more complete care…
… you may also want to consider our chauffeur service, which allows you to work (or relax) while moving.
Do you have any questions or would you like to reserve one of our vehicles? Contact us today!
Do you have any questions or would you like to reserve one of our vehicles? Contact us today!